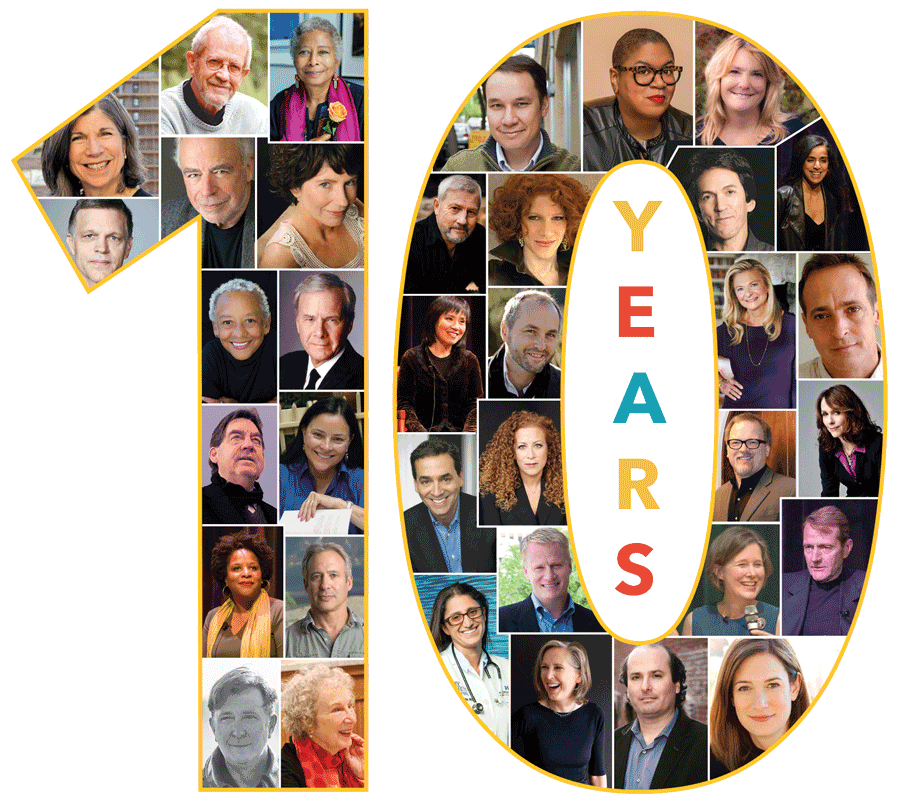 Celebrating 10 Years of
GREAT CONVERSATIONS

A Year Round Book Festival
Help us celebrate 10 years of bringing world-class authors to Traverse City and educating young writers across the region.
Our first event was an Evening with Doug Stanton, a Traverse City resident and New York Times-bestselling author. When he was on tour for his 2009 book Horse Soldiers, he was taken aback by low attendance some of the events. "It got to number two on the New York Times list. But then I went to a Barnes & Noble in Dallas and there were about 36 people in folding chairs. I just didn't understand how the book was selling so well, but yet I wasn't really meeting the readers," he told The Ticker for a story in October.
When planning his Traverse City event, he wanted to try something grander, yet still cozy. He invited Army Col. Mark Mitchell, a main character in the book, to have a conversation at the City Opera House. . The crowd of 600 people was charmed and enthusiastic, so two months later, Elmore "Dutch" Leonard did the same thing. A plan was ignited.
With help from Anne Stanton, now executive director of the National Writers Series, and Grant Parsons, the third cofounder and current president of the NWS board, the National Writers Series formed as a nonprofit in 2010.
Our Raising Writers education programs have been an huge part of the National Writers Series since the beginning, inspired by the help Doug Stanton got with his education. We offer scholarships, an intensive creative writing programs, poetry workshops, Battle of the Books and more.
What a decade!
More than 60,000 have attended 155 author events in downtown TC. We created the wildly popular Battle of the Books Grand Traverse. We co-created Front Street Writers, a highly regarded writing program now taught at TBA-ISD. Some 200 passionate high school writers have enrolled since 2012, getting to meet and learn from Pulitzer Prize winners. We've created dozens of writing classes and awarded $48,000 in scholarships in partnership with the Community Foundation. And each year, we publish the best student writing in the NWS Annual Literary Journal.
As we head into our next 10 years, we are planning another season of fascinating authors with both fiction and nonfiction books, ranging from politics and economics to thrillers and drama. We still are Raising Writers, with education programs for kids that begin in grade school and continue until graduation and beyond.
This is where you come in
We're looking for sponsors for our upcoming 10-Year Celebration. Besides wonderful exposure in front of hundreds of people, you'll know you're supporting a vibrant downtown and helping students.
Some of the perks that come with sponsorship include:
Being personally thanked in front of City Opera House audiences ranging from 300 to 670 people.
A slide in our reshow slideshow with your company logo
Your logo on the NWS website, which had close to 50,000 views this year
Your logo on posters at the City Opera House, Cherry Capital Airport, Traverse Area District Library and Horizon Books; as well as posters distributed to 70 area businesses and in TCAPS schools
Ads with your logo in Northern Express and the Traverse City Record-Eagle
Email blasts with a clickable logo sent to 8,500+ people each week
Prominent mention our program guide, with close to 2,000 printed, distributed throughout NW Lower Michigan and handed out at every event
Sponsorship has many levels, all with generous benefits, plus there are multiple other ways to support the National Writers Series. We can help you find a good fit so you can help the us write our next chapter. Contact Colleen Zanotti, colleenzan@gmail.com,  ‭(231) 392-9759‬, for more information.
$10 for 10 Initiative
We're all about sustainability at the National Writers Series and you can help us with that, too! We're launching a $10 for 10 initiative, offering you the chance to donate on a monthly basis. We named it $10 for 10 for our 10th year, but don't feel like you have to give $10 — please give whatever you feel comfortable with. Just knowing that there's a monthly gift coming in will help us in innumerable ways, from planning to budgeting to thank-you notes. NWS board members and a long-standing donor have agreed to match funds up to $10,000. So your donation will carry twice the power of making a difference.