Author of five New York Times best-selling books, John U. Bacon knows how to spin a tale. His newest book is The Great Halifax Explosion—the startling history of the Mont-Blanc, a World War I munitions ship carrying 3,000 tons of explosives. In 1917, it exploded in the waters of Halifax, Nova Scotia, killing and wounding thousands.
Thursday November 29, 2018
Traverse City Opera House
7PM // Doors open at 6PM
Live Music, Cash Bar, and Morsels Sweet Treats
Stage conversation and Q&A with author
Post-event book signing
Tickets:
$15.00 Reserved
$25.00 Premium Reserved
Ticket Fees Explained
The City Opera House charges fees on each ticket,  which vary by the method in which they are purchased. Here's a detailed explanation:
Buying tickets in person at the Box Office
The Box Office is open Monday through Friday, 10 am to 5 pm, and one hour before the event. This option charges the lowest fees at $2.50 per ticket—this is a facility fee which funds maintenance of the Opera House, along with general upkeep and improvements. No matter how you buy a ticket, you'll always pay the $2.50 facility fee.
Buying tickets by phone
Each ticket is charged a $2.50 facility fee plus a $5 fee for the complete order (regardless of the number of tickets or number of performances purchased). This is an economical and convenient way to buy tickets. The friendly Opera House staff mans the phone lines Monday through Friday, 10 am to 5 pm. Call 231-941-8082, ext. 201.
Internet Service Fees
The City Opera House Box Office wants your ability to purchase tickets to be simple, easy and convenient. The Internet Service Fee covers costs that allow the City Opera House Box Office to provide the latest Internet ticketing technology, that allows you to select your own seat, 24 hours a day, 7 days a week from the comfort of your home or office. The Internet Service Fees are based on the face value of the ticket as follows and are on top of the $2.50 per ticket facility fee.
| | |
| --- | --- |
| Ticket Price | Internet Service Fee |
| $00.00-$19.99 | $2.00 |
| $20.00-$29.99 | $3.00 |
| $30.00-$39.99 | $4.00 |
| $40.00-$49.99 | $5.00 |
| $50.00-$59.99 | $6.00 |
| $60.00+ | $7.00 |
Group Sales Order Fee
There is a $7.00 per-order-fee for all group sales orders of 20 or more.
Public Tickets Available
Monday August, 20
Public Tickets Available 8/20
A riveting, tick-tock account
of one of the world's deadliest explosions
John U. Bacon is many things: a journalist, a public speaker, a sports writer and commentator, and an educator at the University of Michigan. He is also, he says, "an average hockey player, a mediocre Spanish speaker, and a poor piano player." But above all, Bacon is a storyteller of enormous talent.
The author of five New York Times bestselling books including Three and Out, Fourth and Long, and Endzone, Bacon knows how to turn pages and a phrase. He brings to life startling history, employing a jeweler's eye for detail and the touch of a true humanitarian.
In his latest book, The Great Halifax Explosion, Bacon recounts the story of Mont-Blanc, a munitions ship carrying 3,000 tons of TNT and other explosives. In 1917, this cargo would create the largest man-made explosion the world would see until the U.S. bombings of Hiroshima and Nagasaki during World War II.
Drawing on human accounts and historical records, Bacon masterfully stitches together the calamitous accidents, decisions, and coincidences that would lead to a harrowing disaster that wounded 9,000 people, took nearly 2,000 lives, shocked multitudes, and dominated news headlines around the world.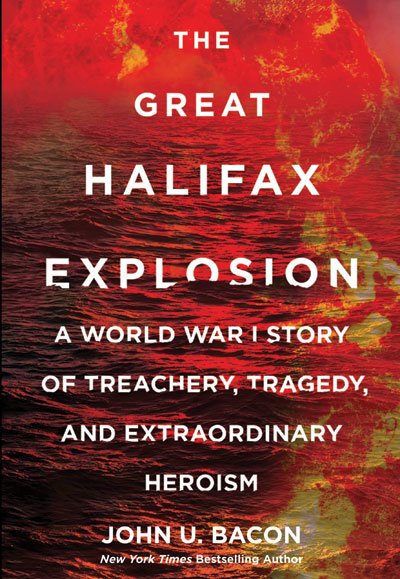 A Year Round Book Festival
1200 W 11th Street, Suite 231
Traverse City, MI 49684
(231) 486-6868
NWS.CWEAVER@GMAIL.COM
Privacy Policy
Sitemap