Jeanne Sirotkin – The First Two Thirds, or How Jeanne Finally Unpacked Her Bags and Settled Down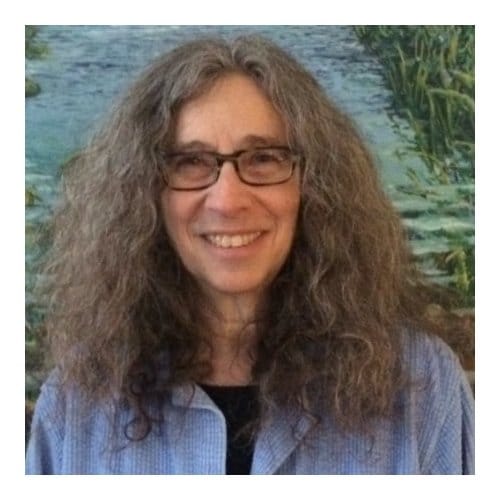 It was the sixties. After briefly attending Eastern Michigan, Wayne State and Wilmington College in Ohio, Jeanne hopped in a car one summer (an Austin America that only ran in dry weather) and moved to San Francisco. During the next eight years, she lived a life of poetry. Salons with artists and writers. Good friends. Broken relationships. Co-edited "San Francisco Gallery" literary magazine. Gave readings.  Taught workshops (from Catholic schools to San Quentin Prison). Her first book An Unzipped Dress (poetry), was published in 1975 by Harold Graves' Golden Mountain Press.
The same year she met Michael Haynes in Mexico, her partner for life, through a series of unbelievable coincidences.
Michael and Jeanne lived in California, Colorado and South Texas. In 1980 they finally returned to Detroit, where they both were born. This was supposed to be only for four years. Jeanne, however, is terrible at math and they haven't left Michigan yet. She taught creative writing at The Roeper School for nine years where she founded their high school writing program and revitalized their dormant literary magazine. She left to facilitate her transition from poetry to fiction. Now Jeanne and Michael live happily in Traverse City, in Slabtown on the most literary street around, with Gracie, a Standard Poodle.
How did you become a writer?
I became a writer by keeping a journal.  I found that I had much to say and had a voice that interested others. I have always been a voracious reader and a lover of language. A long distance romance in 1967 with a poet brought me to poetry through our correspondence.
How do you write? What is your process?
When I first sit down to write, I tend to open with a character in a particular, often quirky situation and let the character tell me the rest of the story. I lose track of time and submerge.
I try to write every day, if only a paragraph or a page. I complained to Richard Bausch, a great teacher, about not having ten years to write a novel (my reason why I hadn't written one when I had plots that asked to be more than short stories). He asked me if I could write a page a day. Of course, I told him. Well, what's your problem then, he said, a page a day gives you a draft in one year. Probably the first novel I wrote took more like 18-24 months to complete the first draft but it was a great lesson in thinking page by page in order not to be daunted by the scope of larger projects.
I write in constant rewrite. I go back and rewrite in order to pick up where I left off.  I believe in art and craft. Art is the creative first draft inspirational process and craft comes into play with rewriting. Craft involves a lot of lessons that have to be learned such as voice, tense, plot, pacing. One of my favorites is the particularization of detail – how a single object can you tell more by the writer giving it particulars.  Is the radio a dial radio that is backlit, or a transistor, or a remote digital? Is it high-end sound or static producing? Is it blue or pink or in an enclosed wooden cabinet or stainless steel? It tells you about time and character and place by the specifics chosen. For instance if a character is talking on a cell phone, you know it isn't 1940.
Art and craft are almost a right brain/left brain sort of activity. Craft has its great reward when the final project is achieved.
Who are your favorite authors?
Anthony Doerr, Ursula Hegi, Haruki Murakami, David Mitchell, Carolos Fuentes, Flannery O'Connor, Barbara Kinslover, Colum McCann, Jorge Luis Borges, Rainer Maria Rilke, Orhan Pamuk, Russell Banks, Mary Karr, in no particular order
What authors have inspired you?
Inspiration often comes from teachers. I have been fortunate enough to have had great ones: Jack Driscoll, Dan Mueller, Michael Martone, Nanos Valaoritis, Richard Bausch and Jill McCorkle.
What books are on your bedside table?
I just finished Anthony Doerr's All the Light You Cannot See. I admire his short story collections and this novel, every bit as good, was one that made me stay up reading, unable to put it down. I like that in a book. My husband and I read out loud at night before bed (for the last 40 years), both large projects (all 12 volumes of Sir Richard Burton's One Thousand and One Arabian Nights) to smaller ones that we finish in a matter of days (poetry volumes or literary magazines). It started on a camping trip in the Sierras before we were married. Three of us around a campfire reading Samuel Beckett's How It Is.
What writing projects do you have planned next?
My second novel No Ordinary Jew is a work in progress. Set in Detroit, it deals with the 20th century immigrant community and with the difficulties and consequences of assimilation. First section is 1930s to WWII. Second section starts up in the late 1950s.   This may change as I learn more about the characters lives. I am a firm believer in "killing your babies" – throwing out what doesn't work, chopping off the head, or transplanting sections. My first novel Exit Wounds has yet to be picked up by a publisher. It is also set in Detroit, in the city morgue, and in Mexico.
I have several short stories in partial finished states. I alternate them with work on the novel.  I consider myself primarily a short story writer. It is my meeting ground between poetry and prose. On occasion I still write poems.
What advice do you have for young writers?
I believe that young writers (meaning a beginning writer, any age) should look to poetry to learn to master exactitude at the word level. Poetry is the act of condensing language into the tightest package imaginable. On the other hand fiction is expansive. It takes an idea and branches out, expanding with 'What If' questions. Fiction is aided by knowledge of the best language at a word level.
Otherwise, I would tell a young writer to read and read more and sit at the computer and put words on the page. Any words. Release yourself. You are not in charge except for the act of sitting down. Let the words, the story, the character propel you forward. There is no writer's block. If you are stuck put in a wrestling match with an alligator, a trip to the store where your character gets lost, a phone call from a wrong number, a knock on the door, a ring of the bell, a message in a bottle … anything. It will play the story forward even if the action gets thrown out later.
Latest Book Information

Wrestling the Bear – a collection of short stories that won the SFA Press prize in fiction was released in 2013. It is a soft cover (art work by the amazing Susan Newman Friedman on the cover). It is available from Texas A & M Consortium, Stephen F Austin State University Press ISBN #978-1-62288-006-5 , from your local bookstore or Amazon $16. Other stories have appeared in North American Review, Cimarron Review, Chattahoochee Review, Arcade, Northville Review, and others.  Poetry, in This Is Women's Work (anthology), 14 Voice – Other Voices Press, Freeze Frame annual, Tule Review, Driftwood, and Ekphrasis.